To you … a 'special' person on Valentine's Day …
I'm all about enjoying life and feeling good - especially on Valentine's Day.
Used to be I didn't care for Valentine's Day, it was sort of depressing … a really long time since I'd had a special someone to share Valentine's Day with – so, I decided to change my experience.
Knowing how good it feels to be a recipient, I began sharing with others in an email, card, phone call, or a gift; it's been so much fun!
May your day be filled with expressions of love.
xoxoxo
Happy Valentine's Day!
-Glenda
© Copyrighted 1998 – 2009 by Glenda Gibbs. Feel free to share... The content may be forwarded in full, with copyright/contact/creation information intact.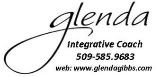 Author's Bio
Glenda is passionate about leaving the world a better place, people feeling better about themselves and the power of positive thinking. She loves to share her wisdom and experiences as an integrative coach/counselor, facilitator and writer. If she can be of service to you or you know someone who would benefit, please contact Glenda at 509.585.9683 or email her at glenda@glendagibbs.com